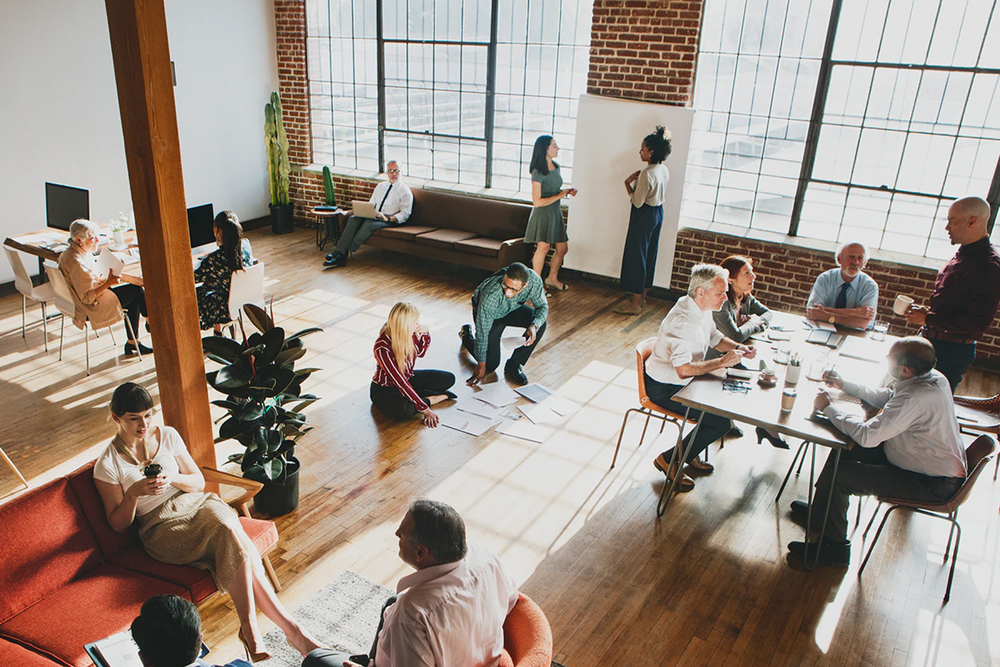 2020 Office Trends
2020 is coming in fast and at full steam ahead. Not only has Pantone released their colour of the year (classic blue) for the twenty-twenties but we are going to see things in a whole new way. This new decade brings about many new opportunities along with lots of variety in the offices. Trends for office design are more open, offering employees the freedom to choose between different working areas that are designed for multiple uses.
There are many office trends that will certainly be staying around for 2020 along with others that will be developing further and become more common in workplaces.
Natural Light and Plants: While this trend has been around for a long time, natural light is here to stay. Not only does it bring an elegance into an office space but it means workers are more productive, happier and it makes for a positive work environment. Along with this, outdoor and rooftop spaces are making a major impact in lots of office areas providing a breakout zone for employees to re-energise.  Plants have also made their way into our offices and are here to stay, whether they're in planter boxes or hanging from the ceiling. Hanging horticulture creates patterns of nature, promotes home-style environments and opens up lots of different possibilities to showcase greenery.
Natural Materials, Sustainable Finishes: As more and more people are becoming aware of their impact on the earth, people are looking to use reclaimed and upcycled materials. People want green building materials that are recycled and from a sustainable source. This trend is continuing to evolve and mature as more offices are reducing processed materials while increasing natural woods, stone features, and green spaces. Natural features like moss walls and coffee tables made from tree stumps are becoming more popular, giving a space character and allowing the lines to do all the talking.
The "Third Space": The "Third Space" is known as those little annoying space that you think are only good for storage. Well think again! 2020 is changing things up and getting you using every nook and cranny of the office. We are talking window ledges, corridors, and even the dreaded area under the stairs. This trend has been driven by technology and enables staff to work from anywhere that has a plug and play area. These spaces provide privacy and spaces away from the desk that allow people to have a variety of areas to work in.
Modern Modular: Along the same lines as the "Third Space", the Modern Modular allows workers to work from anywhere in the office while having the right amount of privacy. Also known as functional furniture, the idea is to keep employees creative, active and extremely productive. New designs are coming out every day that are being designed for this trend, such as insulated phone booths, standing desks, and modular acoustic furniture, just to name a few. Simple things such as standing balance boards, lockers and ergonomic chairs are far more common in the office these days. The idea behind this is to allow people to have their own personal spaces and being able to work in an environment that is suited to them.
Domesticated Workspaces: Domesticated workspaces is an apt way to summarise these trends. We are already seeing more and more workspaces turning into a home-style working environment. We are seeing more furnished kitchens, flowerpots, throw pillows and rugs slowly creeping into the workplace. The belief behind this new trend is that it will attract remote workers back into the office along with more engagement and higher morale. Set to revolutionise the way offices are perceived, this one is bound to be around for the long haul. Look out for these things popping up in the office: varieties of potted plants, throw pillows and rugs, coffee tables and board games and natural/organic textures.
Others trends to keep an eye out for:
Retro Renaissance: We have come to rediscover old buildings and bring them back to life. Vinyl players, pinball machines, and retro gaming machines are making a comeback and forming a big part of this trend.
Boardroom Renovation: Retractable wall systems are becoming more normal in office spaces as they allow people to create the meeting room size they need. Employees like the ability to reconfigure with little effort which can make a big difference to the atmosphere of an environment.
Monochromatic Expressions: Colour schemes containing one colour are the newest way of showing colours. While they only use one colour they use the whole spectrum of shades, tones and hints to show a theme. Often these are finished off with green plants, moss accents, flowers and feature lights.
These new office trends are proving popular amongst many workers. They value variety in the spaces they work and have formal/informal meetings. Allowing people to have the freedom of choice has allowed for a better moral and higher productivity in the workplace.