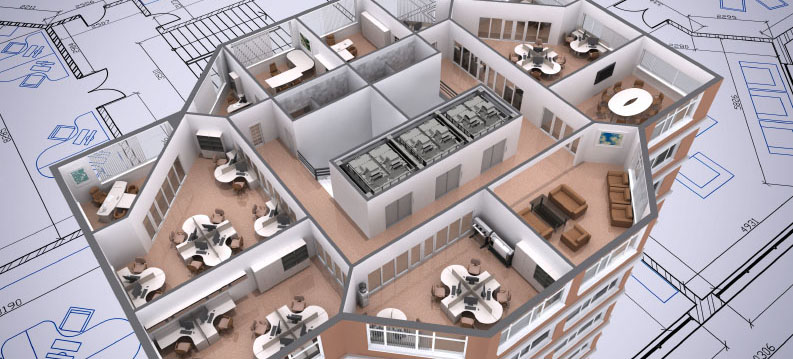 Open Plan or Closed Plan Layout
So the time has come to move offices, but with the prospect of a completely new work environment, it's time to start thinking about the issue of staff having to adjust into a new space.
For a smooth transition you should be considering the best manner to set up your office in a way that meets your employees' needs, along with encouraging workplace productivity. The office layout will be a strong determining factor in this, so decide early on in the planning stages whether to have an open plan or closed plan office layout.
What is the difference? At the extreme end an open plan layout is a workplace that effectively resembles a wide open space. Desks are set up throughout the area, with the emphasis on staff working together. A closed plan layout is a more traditional style, having separate offices or partitioned workstations for every employee.
Of course the right kind of office design will depend on your type of business, your staff and the manner in which staff perform their roles. To help out though, we will discuss the advantages and disadvantages of both layouts, so you can work out the best option for your company.
Open
Open plan layouts are currently in vogue, and there are good reasons why! This modern style of layout is becoming more and more popular, with businesses implementing varied aspects of the spectrum.
The main focus, and advantage of an open plan office layout, is its ability to create a sense of team spirit, from the easy flow of communication it enables. It's said to allow staff to work more harmoniously together in a far less stressful environment.
By working together in a communal space, it rids the workplace of any hierarchal concerns, on top of making management staff more approachable. This layout can also allow for work to be completed more efficiently. With co-workers alongside one another, they are able to assist and help out at any time, further enabling the team spirit of the workplace.
From a tangible point of view, the style of an open plan is far more cost-effective, with little dead space in the workplace and cheaper running costs. This style of layout provides room to fit in more employees, while at the same time, cutting the costs of electricity, stationary, etc. from being able to share utilities.
Closed
On the other hand though, there is a reason why the closed office layout has been around for so long. A lot of employees are used to this style of office design and can become quite resistant to a change.
The style of a closed plan office is said to make staff feel more valued and appreciated from having their own personal office space. There is a sense of trust required in giving employees the privacy of their own office to perform their roles.
Employees are usually very appreciative of having this kind of privacy, and its benefits of being able to work confidentially, have meetings and take phone calls without others listening in.
A major disadvantage of an open plan office is the loss of concentration caused by noises and other distractions experienced in a communal work space. An office that is open and shared not only makes it harder for staff to focus on their work, but also causes greater stress and less satisfaction in their job. This is especially the case in businesses where individual work and tasks are in higher proportion to group and team projects.
Whichever way you choose to go in your office layout, the choice of desks and workstations are paramount. Epic has a range of furniture designed to work in either situation, along with a range of break out, meeting and time out spaces. Browse our product range or give us a call to see how we can help.