Wondering how office furniture affects productivity? You've come to the right place. Epic Office Furniture are here to break down how the right office furniture can foster a productive, functional and constructive workplace.
Did you know that the average professional spends 24% of a typical 50-year period working? If you're someone that works in a corporate environment – and many of us are – that's 13 years and 2 months spent at a desk and utilising office furniture. If you're sitting an office right now, take a look around. Are you feeling inspired by your surroundings? Are you comfortable? Do you feel like your most creative, efficient and productive working-self in this space?
How Office Furniture Affects Productivity
Believe it or not, office furniture plays a huge role in the productivity of your workplace. Extending far beyond aesthetics and company branding, the right office furniture is critical to ensuring you and your employees are enjoying a functional and comfortable work setting.
The partnership between furniture and productivity is particularly important to consider when setting up a new office space, or refurbishing an old workplace. If you're in the position to purchase new office furniture or learn more about how office furniture affects productivity, Epic Office Furniture here are to help. In this article, we're going to break down the various ways in which office furniture and productivity are intertwined. Let's start with one of our favourite topics, ergonomics.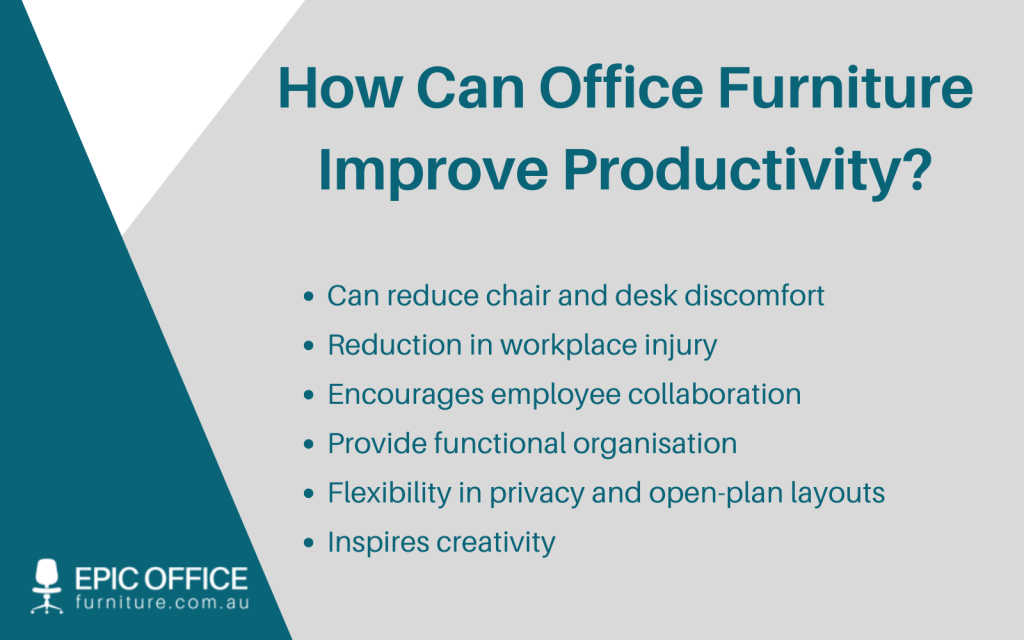 Ergonomic Office Furniture Ensures a Safe Working Environment
Ergonomic office furniture is furniture that has been scientifically designed to optimise a working setting for an individual. From lighting, to air quality, lumbar support, height adjustment and reduced sedentary positioning; ergonomic office furniture works to improve the modern working place, to increase workplace safety, and in turn, productivity.
Considering the majority of office workers spend up to 8 hours a day at their desks, ergonomics chairs and ergonomic desks provide adjustable, functional furniture that optimises the space for each individual. Ergonomic chairs are particularly helpful in mitigating workplace injury; significantly reducing the number of employees suffering from back, neck and shoulder pain.
When your employees are comfortable, pain-free and looked-after with the right office furniture, this increases workplace productivity. Having the right workplace set up means being able to concentrate on the work at hand, without constantly being distracted by discomfort. What's more, from an employer's perspective, implementing ergonomic office furniture also reduces employee downtime, workers compensation claims for injury, increasing continuous workflow.
Office Furniture Encourages Collaboration
The right office furniture brings employees together to share, collaborate and support a productive environment. Whether it be shared ergonomic workstation desks, a stylish and functional boardroom or an employee break station, there are so many ways to make your office more flexible for your employees.
Collaboration is an important element for how office furniture affects productivity in the workplace; using the right office furniture in your workplace creates the right environment for employees to work together. Increased collaboration between employees not only improves the sociability of your workplace but will also inevitably increase productivity and work output.
Functional & Flexible Storage
Office storage is a huge element for how office furniture affects productivity in the workplace. A productive and functional working environment needs an organised office space. By relying on high quality storage solutions in the office, employees can spend less time shuffling papers, and more time completing tasks.
There is nothing worse than a cluttered, disorganised working environment. If employees do not have the storage resources to successfully file, organise and categorise important documents, much of the day is wasted, going through papers and trying to find lost documents. Research suggests that without adequate storage and filing, employees can spend up to 4 hours a week searching for documents. The right office furniture and filing cabinets will ensure important documents are kept safe, managed and organised to ensure employees can seamlessly prepare, meet deadlines and deliver a high standard of work.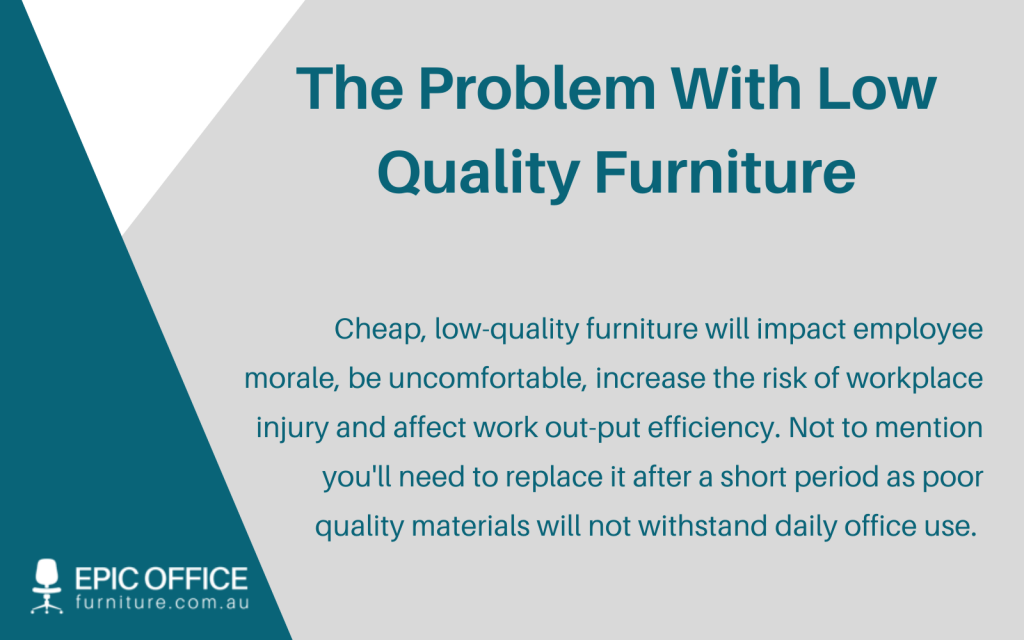 Office Furniture Can Offer Privacy
Another important aspect of how office furniture affects productivity is privacy. Where most modern organisations thrive in a fast-paced environment, there will sometimes be times where an employee requires privacy and seclusion to concentrate. The right office furniture can deliver the best of both worlds. Office screens, acoustic panels and quiet pods can provide private working spaces, even within the modern, open-plan office; increasing productivity, efficiency and workout put.
Good Office Furniture Inspires Creativity
When you rely on high-quality, appealing and on-brand office furniture, this impacts the overall feel of an office space. The right office height adjustable desk set ups, chairs, interior décor and functionality of an office space can provide an improved perspective when employees are searching for inspiration.
Creating a stylish and aesthetically pleasing office space with office furniture is not just to impress your clients and visitors. A nice office space will improve employee morale and inspire great ideas. The right office furniture will cultivate a lively, healthy, flexible and creative workplace – whether it be in the form of office chairs, shared workstations, acoustic panels or furniture décor.
Increase Office Productivity with Epic Office Furniture
At Epic Office Furniture, we pride ourselves on creating functional, comfortable, affordable and great-looking furniture that increases productivity within an office space. The leaders in ergonomic design and functional furniture, Epic Office offer an extensive collection of chairs, desks, storage solutions and more for every type of working environment.
When you invest in high quality furniture, it shows that you value your employees and the work that they put into your organisation. And improved employee morale is always going to lead to increased productivity. So, what are you waiting for? You can foster a functional, comfortable, aesthetically pleasing and productive environment by choosing exceptional office furniture. Epic Office Furniture's wide range of high-quality products mean that you can have furnish your entire office space and have it delivered directly to your door.
Epic Office Furniture are passionate about creating fantastic office furniture solutions that positively impact the working environment. If you'd like to learn more about the benefits of relying on our high-quality office furniture, get in touch with our friendly experts today.