What is the best office chair for lower back pain Australia? Well, isn't that the million-dollar question. For many, finding the best office chair for back pain Australia can be a difficult task. Long hours sitting at a desk can put a real strain on the lower back, especially if your office chair is not optimised to support our body throughout the working day.
The search for the best office chair for lower back pain Australians can trust, is one that many are undertaking. Today, we're going to take you through a run down on why you may be experiencing back pain at work, tips on how to choose the best chair for lower back pain and some recommended chairs for lower back pain.
Firstly, A Bit About Ergonomics
When looking for an office chair for back pain Australia wide, you will have likely seen a fair bit of information about ergonomics. Ergonomic products are ones that have applied psychological and physiological principles to their design and engineering. In simple terms, ergonomic products are those that have been developed to positively benefit your body.
Ergonomic Office Chairs are chairs that have been designed to reduce the strain on our bodies. These chairs have features such as adjustable heights, seat depth and lumbar support. When looking at the best back support chair for office work, lumbar support is especially important to reduce the discomfort experienced and reduce the risk of injury.
Why We Get Back Pain
Even with access to the best office chair for lower back pain Australians can still experience back aches. Back pain in the office is due to excessive sitting and bad posture. Slouching forward or sitting too far back in your chair can cause discomfort as it places strain on the joints and muscles within your back. Consistently sitting with a bad posture will gradually worsen the level of strain and discomfort, and can even result in injuries. Many people also sit in awkward positions throughout the day such as leaning to one side, twisting and hunching over which also contributes to the back pain we so often experience.
One way to mitigate back pain is to remember and practice to sit up straight, which will help reduce your level of discomfort. Imagine a straight line up the length of your back and to your head. Sitting up straight will result in your pelvis rotating slightly forward and a small curve in your lower back. Sitting up straight in an ergonomic office chair for back pain will allow your spine to lengthen, and the muscles in the small of your back stretch out. Another thing to remember is that sitting the same position for an extended period of time is no good for you back, no matter how good your posture is. Remember to stand up, stretch out and move at regular intervals.
The Benefits of Choosing the Best Office Chair for Lower Back Pain Australia
When you choose to work in the best back support chair for office work, there can be a number of fantastic benefits to your physical health and productivity. By having an adjustable chair, you can better optimise your seating position in relation to your workspace. Adjusting the height and distance of your chair will reduce the strain on your neck and arms and help improve your overall posture throughout the day. The best back support chair for office work with lumbar support will make sure your back is supported throughout the day, reducing the strain on muscles and spine.
By better looking after their body with an office chair for back pain Australia, many workers see improvements in their productivity and satisfaction levels. Without having to worry about the discomfort and pain, there are less distractions and time away from work, allowing them to fully concentrate at the task at hand.
How to Choose the Best Chair for Back Pain
The best office chair for lower back pain Australia is one that suits you. There are many chairs out there on the market with their own features and benefits. It is important to do your homework and consider what will best benefit you, and your body. Some key features that your chair should include are:
Adjustable Height
A chair should be adjustable so that you can position yourself in the most comfortable position to your workstation. This is especially important when looking at a screen for a significant portion of the day.
Swivel and Wheels
Having a chair that you can swivel and easily move allows you to adjust your seating position throughout the day. This means you will still stay in a comfortable and supported seating position.
Back Rest
When sitting for many hours a day, it is important to have a back rest that will allow you to remain comfortable. Other seating equipment without backrests may place significant strain on your back which might not only be tiring but detrimental to your back.
Lumbar Support
Lumbar support is especially important when choosing your best office chair for lower back pain as it will allow your spine to stay in a comfortable and safe position throughout the day.
Armrests
Armrests can allow your arms to sit at a comfortable supported position and reduce the strain placed on your shoulders.
Seat Material
Although favoured seat materials may differ depending on personal preference, it is important to select a material that is breathable and comfortable. After all, you will be sitting on it for many hours.
Recommended Chairs for Lower Back Pain
If you were looking for the best office chair for lower back pain Australia, we've got you sorted at Epic Office Furniture. These chairs have been specifically designed with the user in mind to reduce the back pain felt by all types of office workers. The motion mesh chair is considered to be a candidate for the best back support chair for office workers, containing hidden lumbar support that delivers comfort without compromising on style.
When choosing the ideal chair for your back, here are our top picks: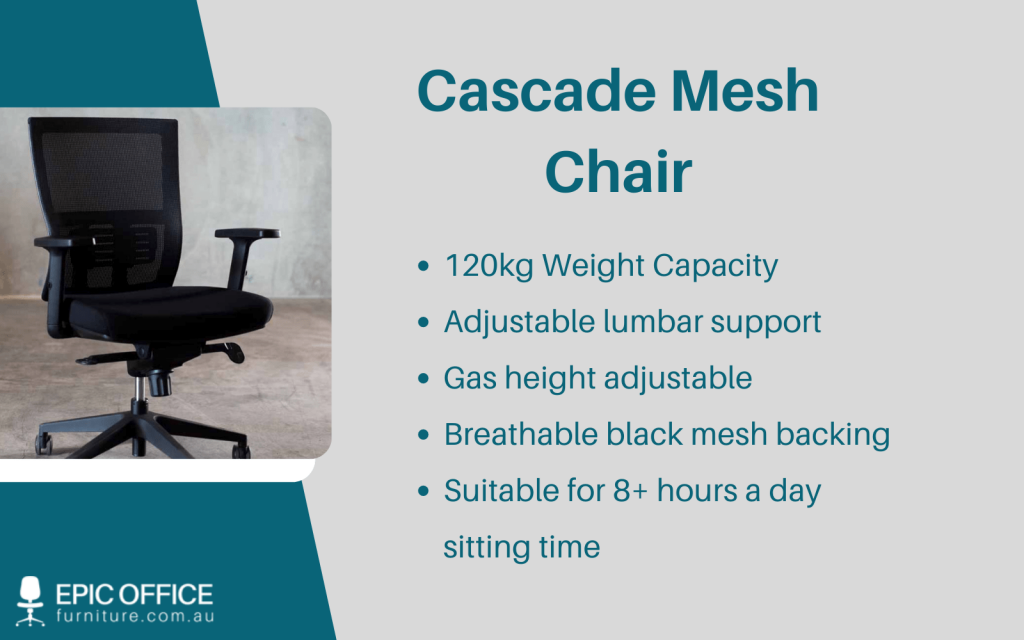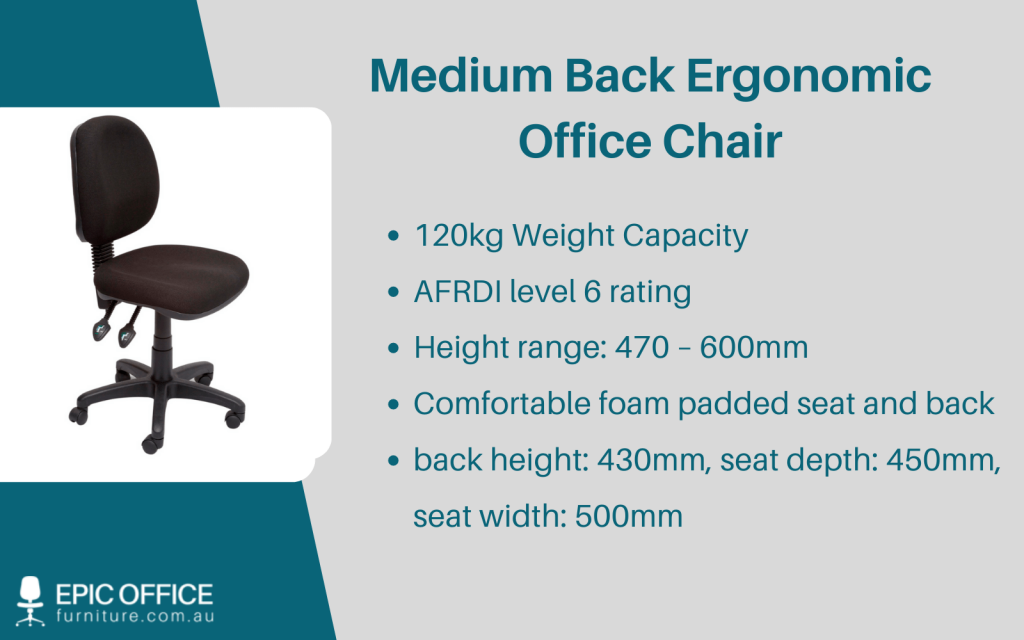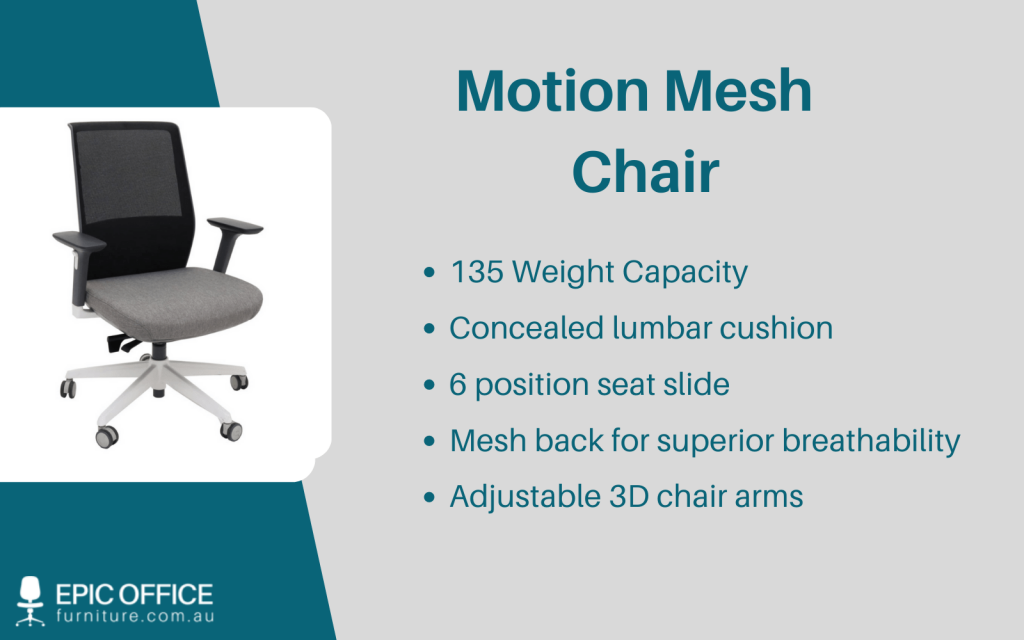 Contact an Ergonomic Chair Expert Today
We can help you find the best office chairs Australia for lower back pain Australia wide with our great selection of chairs including boardroom chairs, cafe chairs, coloured chairs, drafting chairs, executive office chairs, heavy duty office chairs, and mesh office chairs.
If you would like any additional help finding the best chair for you or any other office furniture enquiries, do not hesitate to get in contact with our team at Epic Office Furniture on 1800 883 438 today.