Have you ever walked into an office and have instantly felt yourself losing both energy and inspiration by the second? Maybe you've looked around searching for anything that could provide motivation, only to be met by white walls and dull furniture. Unfortunately, most of us office workers have been faced with the stark reality of a lethargic and tired office at one point or another.
The solution to a clinical, lifeless and dull office space? Office accessories.
With the amount of time the average person spends in their workplace a week, an office can act as a home away from home. Just as you would accessorise your home, it is crucial to accessorise your office to develop a sense of comfort and create a space that inspires both creativity and engagement.
A stylish and practical setting full of colour and life will create a supportive and productive environment for your staff to flourish in. If you've been wondering how to spruce up your office, you've come to the right place.
How to Spruce up Your Office:
Epic Office Furniture are here to break down how to brighten up office space, specialising in how to make your office space look fun, yet professional, in a wide range of working environments. Here are our top tips for sprucing up your office space with office accessories: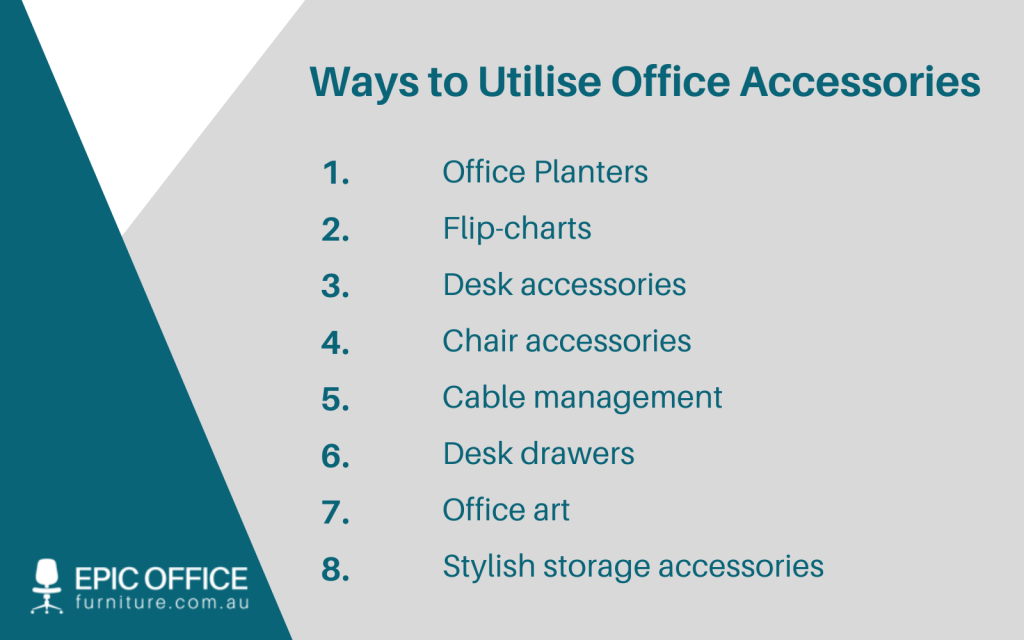 1. Office Planters
Adding greenery to your office space is almost like a cheat code in figuring out how to spruce up your office. Adding a burst of colour is a quick and easy solution in making your workspace feel more alive, clean and fresh!
Whether you're looking for low maintenance fake plants for the aesthetic or living plants to add a breath of fresh air, Epic Office Furniture have got you sorted with our office planters.
2. Flipcharts
Flipcharts are a great way to inspire collaboration and foster a sense of togetherness within your office space. Flipcharts are incredibly versatile and multi-purposeful whilst also adding to your office vibe and style when used correctly.
Flipcharts offer easy mobility with their simple folding frame and are a necessity when engaging in creative practice. You can make sure the tasks are accomplished through to-do lists, or you could go the opposite way and leave funny messages and artworks to aid your office vibe.
3. Desk Accessories
Perhaps the most crucial aspect in how to spruce up your office lies within your desk accessories. What better way to convey individual personality than handy desk accessories that can act as a source of inspiration and support efficiency and productivity?
These accessories could range from anything like a neat monitor arm, to a wireless charging module for your electronics. Who knows, the right desk accessory may even make a great conversation starter!
4. Chair Accessories
The typical workday lasts for 8 hours – that's 8 hours that you're spending sitting down in your chair. As such, your chair must be comfortable to ensure maximum productivity.
Adjustable arms, chair mats or wheels are examples of desk chair accessories that'll make your life easier when you're in the zone.
5. Cable Management
If your workspace is cluttered with cables everywhere getting in the way of things, productivity can be negatively affected. No one likes a mess or a safety hazard, and it certainly won't help you make your office space look fun or professional.
Reducing the convolution of cables in and around your office space is a sure-fire way to make your thoughts more organised and aid practicality. By investing in a cable management system, you'll cut down the time it takes to find the cable you're looking for in today's modern world, which relies on technology.
Never underestimate how much of a factor cleanliness and organisation are when working on how to spruce up your office.
6. Desk Drawers
We all know the feeling of sifting through a stack of papers to find the one that you're after. The stress of not being able to see that thing you're looking for.
Thankfully, there's an easy solution: desk drawers. Desk drawers will help you find things instantly, declutter your space and keep a sense of order within your office space. Moreover, it adds an extra layer of security and comfort in knowing that no one's going to accidentally misplace one of your items, or borrow it without your permission, forgetting to return it.
Whilst desk drawers may not be the most exciting accessory in the world it is sure to help you in your day-to-day activities and is crucial to consider how to spruce up your office.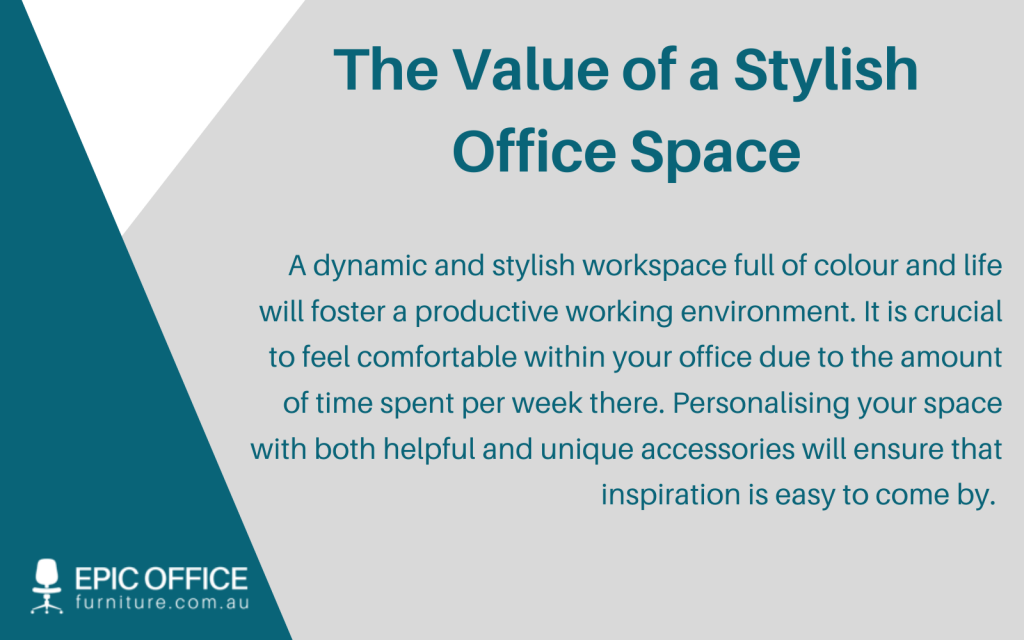 7. Office Art
Brighten up the space!
Creative spaces lead to creative work. Have you ever been stuck on a point or task, unsure of how to proceed? Often times art can be the source of inspiration, the instigator behind that 'a-ha' moment that'll support your case for a promotion or a bump in pay. Art in the office that injects a burst of colour and personality is a crucial aspect of how to make your office space look fun yet professional.
If you're not sure where to start when figuring out how to brighten up office space – begin here, it'll be fun!
8. Stylish Storage Accessories
Out with the conventional office storage, and in with stylish office storage areas that are sure to leave an impression on visitors, potential investors or prospective employees!
Bookshelves, for example, are a great addition to the office space – enabling professional development or providing a great source of downtime when creative batteries need recharging.
Spruce Up Your Office with Epic Office Furniture
There's our full list of office accessories that are sure to allow you to develop a space you never have to leave…and one that you don't want to leave!
Here at Epic Office Furniture, we are passionate about developing productive, practical and stylish furniture that is sure to spruce up your office. Start your sprucing up journey today by looking at our wide range of office accessories – you're sure to find something that will fit in your space and inspire creativity.