Wondering how to arrange office furniture at work? The makeup and layout of an office environment have a significant impact on the productivity and behaviour of employees, as well as the overall culture within the workplace.
Thoughtful office furniture planning and inclusive design considerations can revitalise corporates spaces amidst returning from home office life, as well as improve the general functionality and aesthetic of a commercial working environment.
Here at Epic Office Furniture, we specialise in designing and manufacturing furniture that facilitates comfortable, functional and stylish working areas. As such, our furniture specialists are the expert when it comes to choosing office furniture for maximum impact.
Let's take a look at just a few simple design tips that can be used to develop an understanding of how to arrange office furniture at work to create a space that maximises performance and morale.
How Office Layout Affects Productivity
First and foremost, the utmost consideration is to develop a working environment that remains lively but not distracting, providing adequate space for collaboration whilst preserving private rooms to meet the needs of each individual.
Envisioning how to arrange office furniture at work starts with considering how and where you want your employees to move within the space. For example, it would not be shrewd to place furniture or workstations in areas with high foot traffic as it would decrease the productivity of those employees and decrease the ease of navigation around the office.
Naturally, each employee will have favourite spaces in the office that they frequent. Does your office have natural strengths that came with the building? When planning how to arrange office furniture at work, look for potential diamonds such as high ceilings, cozy spaces or areas with strong natural lighting. This is sure to increase the authenticity of your environment and increase employee comfort with the room. A considerate use of colour, furniture, technology and style that is both practical and aesthetic is sure to boost office productivity.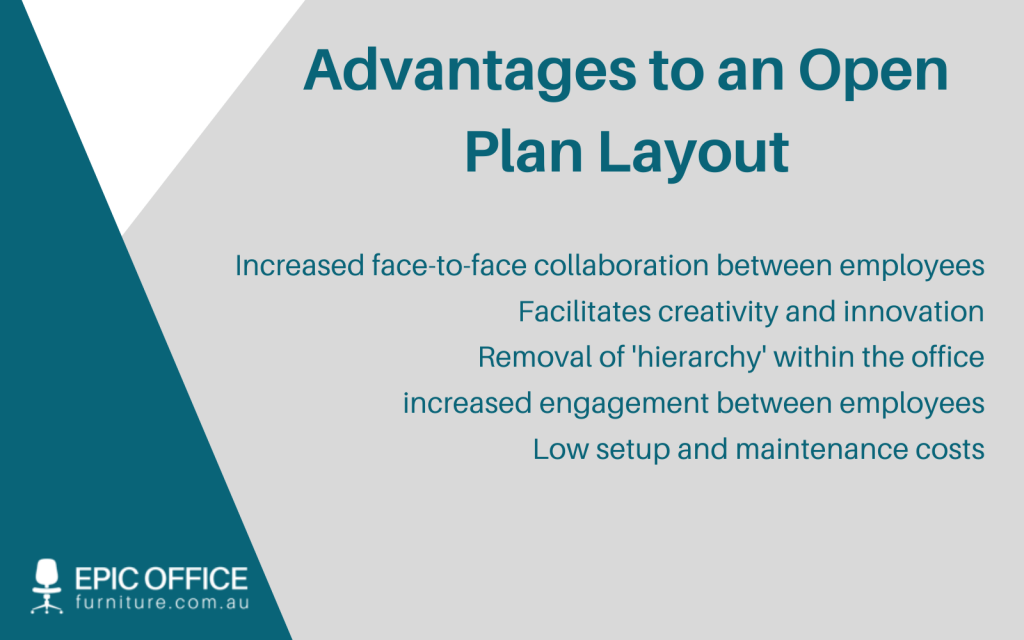 What Is An Open Plan Office Layout?
When first brainstorming office layout ideas, it quickly becomes apparent that there are several styles you could look to implement in your workspace. The right style will depend on the people that comprise the workforce as well as the culture, values and offerings of the company.
In our modern age, many companies are taking advantage of the 'open plan' office layout. An open-plan office space is designed to increase face-to-face collaboration between employees. Whilst private areas still exist for meetings, most of the employees are seated in the same room. The intention behind this is to not only increase collaboration but facilitate creativity, innovation and networking. With employees engaging more with each other, the intention is to remove the idea of a 'hierarchy', inciting a sense of inclusiveness. Despite this, low cubicles or acoustic dividers are standard features of an open plan office layout to maintain a semblance of privacy within assigned space.
Moreover, open plan office layouts cost less. An open office reduces the cost of equipment, utilities and potential constructions. However, certain disadvantages include noise pollution, worker distraction, decreased performance in introverts, or the development of a sense of chaos despite all the benefits.
Alternative office layouts that are more conventional could be a better fit for your workplace, depending on the industry. Cubicle office layouts or team-based layouts, for example, also have a number of benefits.
Design Tips to Boost Productivity at Work
Contemplating how to arrange office furniture at work doesn't have to be complicated. Have fun with it!
Here are a few things to bear in mind when planning how to arrange office furniture at work:
1. Colour is Crucial
Imagine walking into your first day of a new job, only to be met by bleak looking walls, art or furniture and deadpan employees. Now, imagine walking into an office full of unique art pieces and greenery combined with a distinctive colour scheme. Colour and greenery help keep the space lively and fresh whilst developing a specific brand identity.
2. Go with Furniture That's Not Only Stylish but Comfortable
When you're spending 8 hours or more a day in the office, it cannot be understated just how essential it is to supply furniture that is kind to the body. Ergonomic office furniture has been scientifically designed to enhance the working setting for an individual by applying psychological and physical principles to the design stage. From lumbar support or height adjustment to lighting and air quality, ergonomic design goes a long way to increase productivity. Here at Epic Office Furniture, we offer a wide range of ergonomic chairs, height adjustable desks and desk chair accessories to maximise comfort in the office.
3. Variety in Working Spaces
When visualising how to arrange office furniture at work, consider the tendencies of your employees – do some departments work better in collaborative spaces? Maybe some individuals prefer the privacy of a personal deskspace. An office layout that enhances productivity will provide both options to facilitate employee preference.
Moreover, office furniture can be used as a tool to incite collaboration. That new, fashionable stainless-steel table is sure to grab more attention compared to a typical foldout table.
On another note, establish key areas within the office space and focus a greater concentration of resources into that area. For example, a welcoming reception desk can go a long way in developing first impressions or providing a slight morale boost in the morning as employees walk through the door.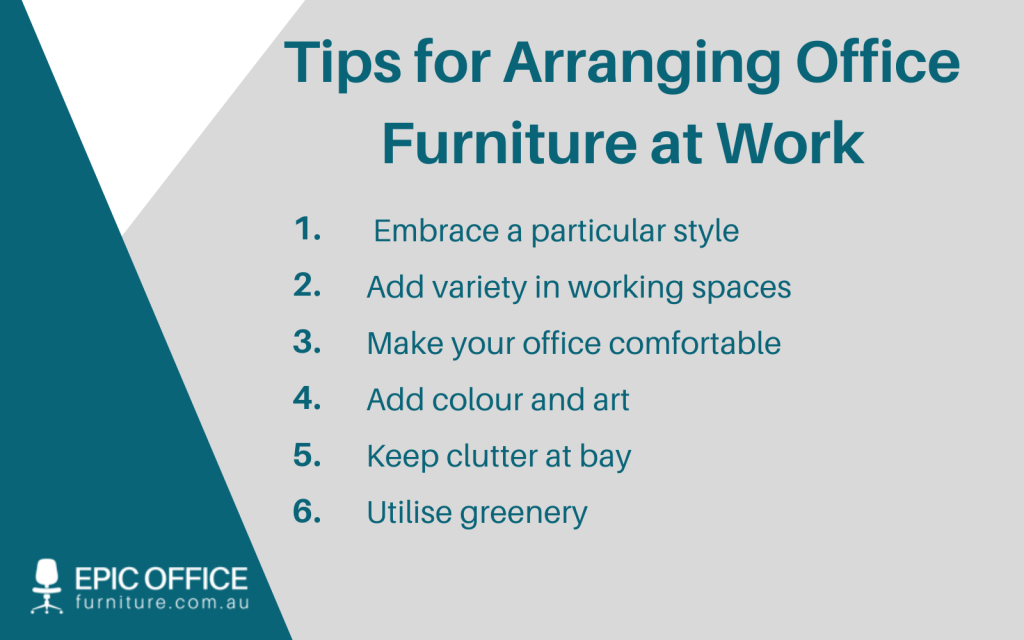 How to Arrange Office Furniture Feng Shui
Expanding on the previous point of personality within the workspace, Feng Shui is a philosophy that has become increasingly popular in recent years within office furniture and layout planning.
Feng shui refers to creating a space that is harmonious with the environment, triggering specific emotions and feelings to attract positive results. This encompasses some of the previously explained methods, such as the importance of colour, art and plants. Feng Shui is a guide for how to arrange office furniture at work.
Feng shui encompasses the careful crafting of a workspace, one that sends a subliminal message to the visitor. The positioning and appearance of one's desk is a particular focus within this philosophy. To achieve a 'power position', place your desk in a way so that your back is facing the wall, allowing you to see who is coming and going from the room at all times.
When considering how to arrange office furniture feng shui style, it is essential to note that scent also plays a role. Ensure that your office is stocked up on natural, fresh-smelling air fresheners that can assist on stressful days.
Create Your Dream Office with Epic Office Furniture
Now that you know how to arrange office furniture at work and how office layout affects productivity get shopping!
Here at Epic Office Furniture, we're passionate about providing high-quality office furniture that increases productivity within a space. Check out our wide range of fantastic office furniture that is sure to give your workplace the right structure, feel and aesthetics.