So, you've witnessed the hype, and you're wondering if ergonomic furniture is worth the investment for your office. The answer you're looking for is, yes.
The benefits of ergonomic office furniture in the office are plentiful; with extensive research into the science of health and ergonomics to back up the growing trends. If you want to improve the culture, comfortability and safety of your office or workplace, investing in ergonomic office furniture should be your top priority.
If you're wondering "So, what are the benefits of ergonomics in the office?", you've come to the right place. Australia's leading online furniture retailer, Epic Office Furniture deliver the most advanced, cutting-edge ergonomic office furniture across the nation. We design, create and provide ergonomic furniture that fosters a comfortable, functional and productive environment. Before we get into what are the benefits of ergonomics, let's start with the basics.
What Is Ergonomics?
Coming from the word "ergon", meaning work, and the term "monos", which translates to laws, ergonomics refers to the design of an object that aims to enhance usability, comfortability and efficiency for the user. The Oxford Dictionary defines ergonomics as "relating to or designed for efficiency and comfort in the working environment".
What Is Ergonomic Furniture?
When we think of ergonomics, we generally think of cushioning chairs and extra lumbar support. However, ergonomics can be applied to an entire workplace, with specifically designed ergonomic furniture for every type of employee.
Ergonomic furniture ranges from height adjustable desks, chairs, to office accessories, lighting, temperature control, air conditioning and accessible storage. Ergonomic furniture is scientifically designed to maximise comfort in order to reduce stress, strain, and minimise any action that may lead to workplace injury.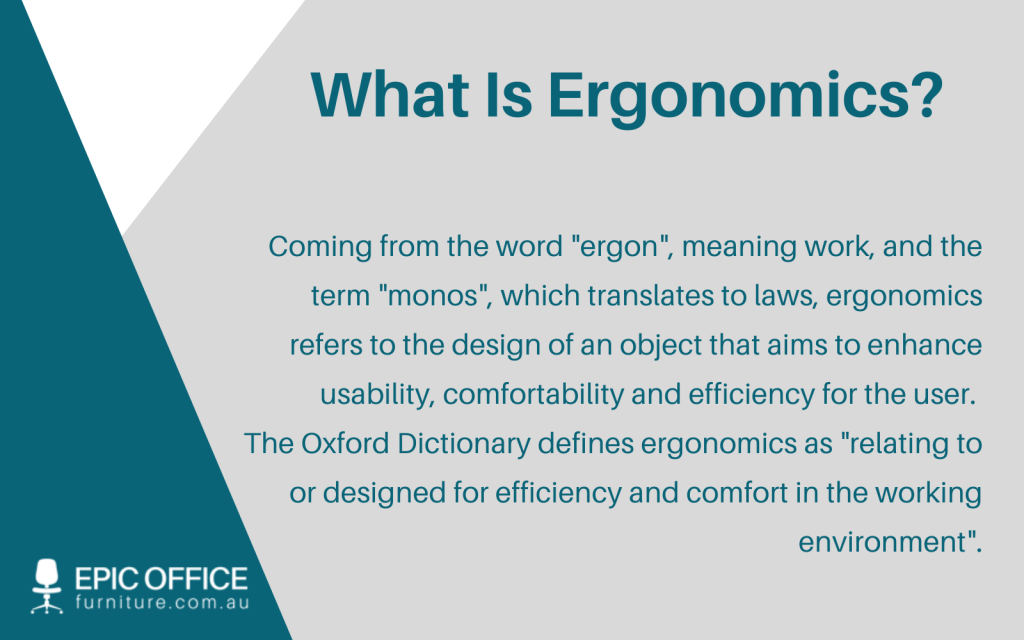 Why Is Ergonomics Important?
The benefits of a well designed ergonomic work environment cannot be understated. SafeWork Australia revealed that in 2012-2013, the total work-related injury cost to the Australian economy was a whopping $61.8 billion. In 2013-14, muscular stress while lifting or handling objects caused 33% of serious workplace injury claims.
Within an Australian office, the single most complained about problem is back-pain and comfortability. A significant number of workplace injuries are contributed to those resulting from low-quality, poorly designed office furniture.
Not only are staff experiencing more injury and ill health than ever because of their workplace, but research has proven that many of these injuries are preventable with enhanced design and workplace health and safety changes. Employers are responsible for the physical and mental health of their employees at work. With poor design, staff are at risk of developing musculoskeletal and back, neck and shoulder injuries.
The implementation of high-quality ergonomic office furniture can provide a significant reduction in risk to office workers. In the case of what are the benefits of ergonomics; in offices, ergonomic chairs, desks, storage facilities and enhancements work to combat the risk of preventable injury, with scientific and proven design.
What Are the Benefits of Ergonomics?
So, what are the benefits of ergonomics in the office? There are many benefits that come with implementing ergonomic designs into the modern office. Designed with the user in mind, ergonomic office furniture consequently benefits both the employer and the employee. Here are the main four benefits of ergonomic office furniture:
1. Reduces Risk of Workplace Injury
One of the biggest considerations when discussing what are the benefits of ergonomics is workplace health and safety. As mentioned earlier, ergonomic office furniture is designed to suit the user in an effort to minimise discomfort and promote good health. Ergonomic office furniture reduces harmful repetitive motions, poor posture and muscle strain while working in the office. Lumbar support, spinal cushioning and anti-fatigue designs are all examples of how ergonomics promote comfort and healthy positioning in the office and reduce the risk of injury.
Reducing workplace injury also contributes to ergonomics lowering company costs. By systematically addressing and reducing ergonomic risk factors, employers will prevent costly musculoskeletal disorders and workplace injuries.
2. Increases Productivity
One of the significant benefits of ergonomic office furniture is increased productivity. Due to the design of ergonomic office furniture that promotes good posture, reduction of repetitive motion and strain on muscle, desk workers are much more comfortable, and therefore, more efficient. The benefits of a well designed ergonomic work environment extend beyond physical health. Comfortable heights and reaches, and less exertion mean that employees can work more efficiently and effectively, increasing workplace productivity.
3. Reduces Harmful Sedentary Behaviour
Ergonomics is a powerful workplace strategy to reduce sedentary behaviour. There is evidence that spending a lot of time being sedentary (sitting for eight hours at a desk) is directly linked to an increase in health problems like obesity, heart disease, high blood pressure and poor mental health. The benefits of ergonomic office furniture include a reduction in sedentary behaviour, with the help of sit-to-stand desks and furniture that encourages muscle activity.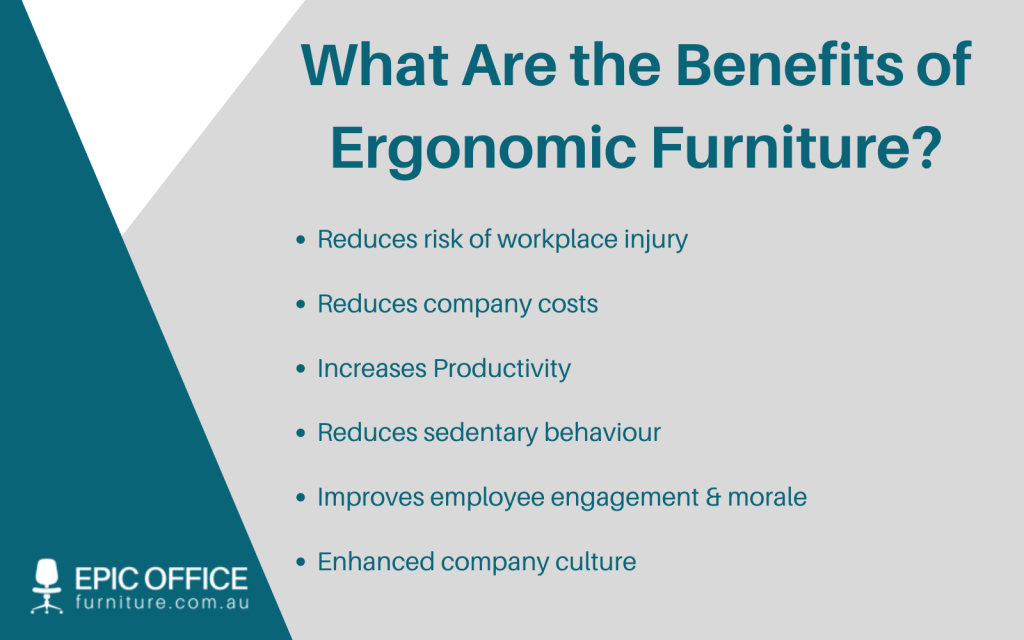 4. Improves Employee Engagement & Morale
If you're thinking about what are the benefits of ergonomics, you're likely considering investing. When a company is putting forward their best effort to ensure health and safety, employees notice. Ergonomics show that your company is committed to the health, safety and comfort of your employees. This provides an excellent setting for a positive working environment and company culture. What's more, when discomfort, pain and fatigue are reduced at work, there will be improved employee morale, involvement and engagement and a decrease in absenteeism.
The Benefits of a well designed ergonomic work environment are plentiful. From reduced risk of injury to increased employee morale and company culture, there really aren't any downsides to investing in ergonomic office furniture for your office or commercial space.
Ergonomic Desk Benefits
What are the benefits of ergonomics when it comes to desks? Ergonomic desks include standing desks, height-adjustable desks and desks that have been designed to encourage correct posture and spinal alignment. The main ergonomic desk benefits include:
Decreased risk of musculoskeletal disorders
Reduced stress on the user
Help workers to stay focused
Improved productivity
In particular, ergonomically designed standing desks are particularly beneficial for health. Alternating between sitting and standing improves heart health, increases blood flow and decreases the risk of lifestyle diseases, including diabetes and heart disease. Ergonomic desk benefits are plentiful and can address a wide range of existing workplace injuries.
Ergonomic Chair Benefits
And what are the benefits of ergonomics in regards to chairs? Ergonomic chair benefits directly relate to the body, as ergonomic chairs are designed to customise the fit to the body or seating preferences. The main ergonomic chair benefits include:
Posture support
Improved back positioning
Reduced neck, shoulders, back and hip pain
Improved blood circulation
Boosts productivity
The Experts in Well-Designed Ergonomic Work Environments
If you're still wondering "what are the benefits of ergonomics in the office?" Don't take our word for it – speak to one of the office furniture professionals at Epic Office Furniture. Australia's leading furniture supplier across the nation, we offer an extensive range of ergonomics and have seen the benefits of ergonomic office furniture first-hand.
Ergonomics is only becoming more important in the modern workplace. As we move to rely even further on digital technologies, employees need to have a comfortable, safe and healthy environment to work from for such long hours. As an employer, it is your duty to create such an environment. From height-adjustable desks to AFRDI certified chairs, we've got every aspect of a well designed ergonomic work environment covered. Check out our full range online, or call us today at Epic Office Furniture on 1300 883 438.