The modern workplace is driven by collaboration, functionality and flexibility. Whether you're operating a start-up business or you're a part of a large marketing agency, you're probably aware of the popular trend of creating an open office space. Due to extensive research into the benefits of collaborative working, many companies have adopted large office workstations to improve the functionality of their operating spaces.
The average office worker spends the majority of their time at work seated at their desks. To be seated in one place for approximately eight hours each day, office workers need a proper setting and atmosphere to encourage high work performance. The right working environment will increase creativity, productivity and willingness to work with other employees. That's where large office workstations come in.
Research into open-plan offices has found that employees working at workstation tables (provided they are not too crowded) experience less stress at work, are more sociable, and feel more comfortable in their working environments. Large office workstations are a fantastic solution for the modern workplace that wants to improve company culture, office productivity and employee well-being.
What Are Office Workstation Table Designs?
Office workstation table designs are shared working spaces designed to seat at least two people, up to ten to twelve people at any one time. Essentially desk sharing, large office workstations offer collaborative workspaces for various employees working under the same company or organisation roof.
Workstation table designs can vary, depending on the requirements of the space. Workstation desks are available in a variety of sizes, styles, colours and shapes, with many office spaces also ordering custom-made workstation table designs. What's more, there is a large selection of workstation accessories and additional features available to office workers, including screen partitions, desk dividers, cable management systems and desktop and screen mounts. Depending on what type of office or business you run, workstations tables and desks can certainly be tailored to meet your every need.
The Benefits of Large Office Workstations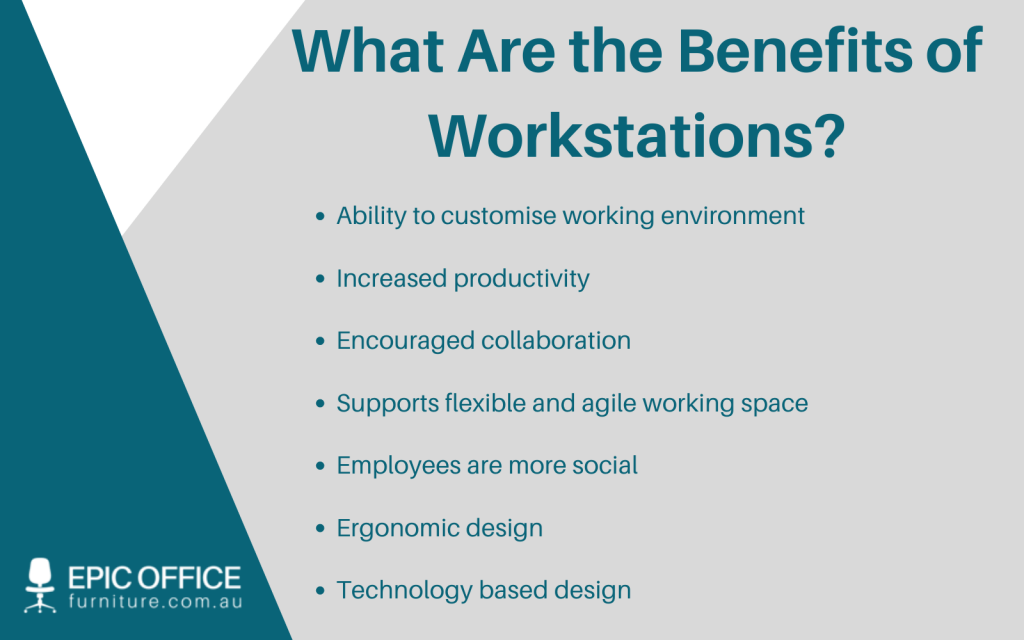 Customisation:
Workstations are not cubicles, which means that office spaces are no longer divided up, isolating employees and staff members. This gives both the employer and the employee room to customise the working environment. Business owners have the freedom to design a comfortable, visually appealing office space that is not barricaded by cubicles. Staff have the freedom to customise their workstation desk to take advantage of their unique space.
Productivity:
Desk workstations furniture provide employees with immediate access to all materials, tools and technology that drive productivity.
Collaboration:
Large office workstations foster employee collaboration and teamwork. Rather than trying to organise forced brainstorming sessions in conference or break rooms, workstations provide the perfect environment to throw out ideas, communicate and collaborate freely.
Flexibility:
A workstation desk set up can come in a variety of styles, sizes and colours. The flexibility of large office workstations means that they can regularly be moved, changed, and adapted to suit the requirements of work and the office space. What's more, when your team expands, office workstations can easily transform to accommodate the new arrangements.
Functionality:
Workstation setups allow for increased functionality in the workplace. Rather than weaving through cubicles to access other staff members, break rooms and office equipment, employees have the opportunity to function more efficiently, right from their desk space.
Social Aspect:
Given that employees are seated next to each other and are not isolated, colleagues can turn to each other and communicate rather than trying to schedule a meeting in. This refers to both business-related and non-business-related interactions, improving the social atmosphere of an office. The social aspect of workstation table design enhances the happiness of employees as they feel more relaxed and at ease in their surroundings. This can also help integrate new employees into teams and foster positive working relationships.
Ergonomics:
Workstations offer an ergonomic design which contributes to a healthy, happier office. Ergonomics, meaning comfort in Greek, refers to office furniture work stations that comfortably conforms to the body, providing a more pleasant and healthy working position. Workstations are designed with ergonomic positioning, set ups and support in mind.
Technology:
Workstation desks offer the space for technology-based design. Technology-based design in the office refers to anything that can leverage the use of top emerging technologies that can increase the efficiency of a working space. Think monitor arms, charging stations, speakers and hotspots.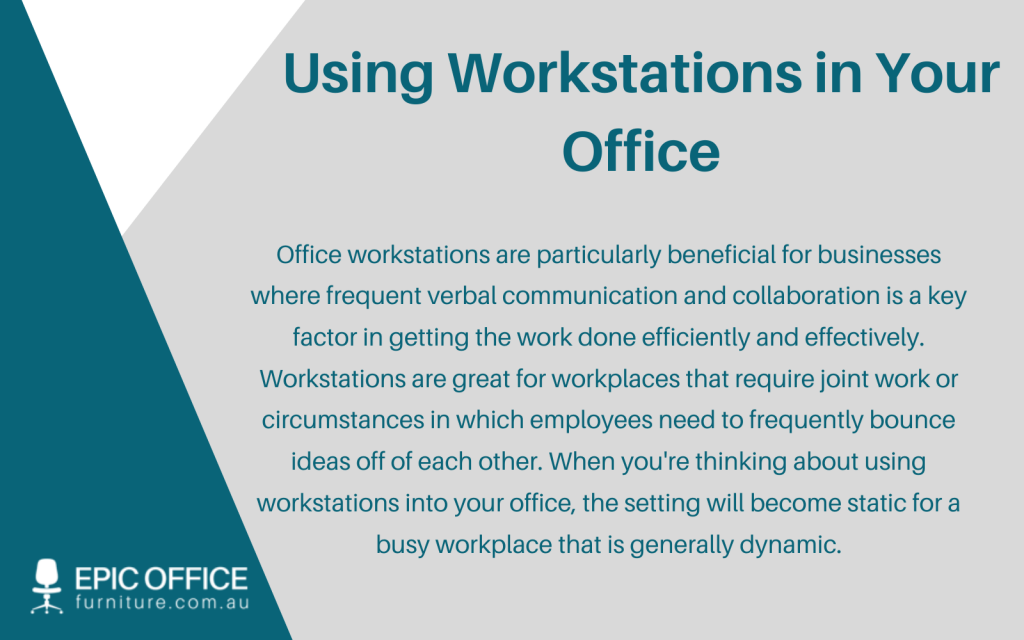 How Do Office Workstations Function?
Office workstations function by seating more than one person at a large workstation desk in an open space. The key to creating a space wherein office workstations function effectively is balancing collaboration with workplace comfort, acoustics and personal space.
Office workstations function by allowing agile and flexible work. Rather than positioning employees to be seated separately and be segregated by cubicles, workstations encourage employees to enjoy a shared space, while still allowing personalised desks. This kind of open-plan furniture supports an agile working experience where employees are more comfortable, positive working well-being is prioritised, and joint collaboration and is a key element to the nature of business.
Who Should Consider Desk Workstations Furniture?
Office workstations are particularly popular within start-ups and large, creative companies. In the creative field, employees are frequently collaborating – workplaces become static, as the occupants are dynamic. Whether it be to accommodate frequent joint projects or for employees to be able to ping ideas back and forth, workstation furniture offers a collaborative and synergetic atmosphere for the modern workplace.
Large office workstation desks are particularly beneficial for businesses where frequent verbal communication and collaboration is a key factor in getting the work done efficiently and effectively. Instead of employees having to refer to email, phone or walk to each other's desks, they can simply turn to their co-workers for questions that require answering. In companies where this frequency of communication is not necessary, (or, in some cases, detrimental) for the efficiency of work tasks, workstation desks may not be the best choice for furniture.
Epic Office Furniture Work Stations
For many modern workplaces, workstations are the key to providing a comfortable, positive and collaborative environment. Australia's leading online retailer for desks, workstations, furniture and offices, Epic Office Furniture offer a wide range of workstation desks to suit a variety of workplaces. To find out more about the functionality of workstations, check out our full range today. The Epic Office Furniture collection of office workstation desks offers reliable, comfortable, flexible and adaptable selections for the modern office space.